'Inflatables' insurance keeps safety from bouncing away
Posted on May 27, 2013
"There are no dangerous rides … dangerous operators, dangerous installers, yes — but the ride itself is not dangerous."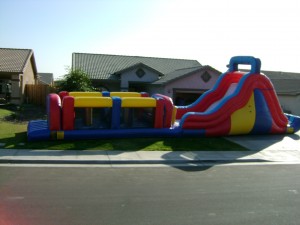 Although according to this article homeowner's insurance won't cover an inflatable if a company came out and set it up; "if someone gets hurt on an inflatable that you've rented, don't look for help from your homeowners insurance."  – As a broker, Ideal Choice  Insurance Agency offers homeowner insurance carriers who will cover such a loss, to one degree or another…
The interviewee went on to say; "Most people don't have insurance. It's the firefighter who bought one of these on eBay and rents it out for cookouts, and I bet my life they don't have insurance."
"Homeowners (insurance) obviously isn't going to cover it if a bounce company came out, set it up and it blew away with five kids on it…"
Brankrate.com's post offers these steps for worry-free inflatable fun;
Make sure the rental company is insured, even where it's not required by statute. Be sure the policy specifically covers inflatable amusement rides and that the limits are adequate.
Make sure your operator has a valid certificate of operation if your state regulates inflatables. You can find this by searching online for "amusement devices" on your city, county or state government site. Amusement ride inspection typically falls under the Department of Labor, Department of Agriculture or Department of Public Safety.
Investigate the rental company's safety record. States with jurisdiction maintain extensive records on training and accidents by certified operators.
Follow manufacturer safety guidelines. Do not allow adults on rides with children, as the weight difference frequently results in injuries.